As a Medicare Advantage Plan provider, Aetna Medicare offers a variety of plans that each have different benefits, costs, and rules. Aetna's plans are unlike Original Medicare in that all the maximum out-of-pocket expenses you may incur in a year are restricted. Fitness is one of the many benefits they offer through SilverSneakers, and most of them also offer dental, vision, hearing, and mail-in pharmacy benefits as well.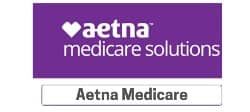 In addition to supplying information about Medigap plans, Medicare.gov also allows you to buy them directly from private insurers. Members of these plans are not required to use any specific provider network, allowing them to carry their coverage anywhere they go. In addition to not covering prescriptions.
Aetna Medicare Advantage Plans
Some Medicare Advantage plans include additional benefits such as fitness, dental, vision, hearing aids, and over-the-counter medications. These benefits are becoming more common.
HMO Plans 
HMO plans usually require a primary care physician who coordinates care and acts as a guardian for other medical services. Aetna Medicare Advantage HMO members may need a referral to see a specialist.
PPO Plans
PPO plans generally offer more flexibility in finding out-of-network providers than other Medicare Advantage plans, but these providers can cost more. Aetna PPO plans mostly do not require a primary care physician, and referrals to see specialists are not required.
Medicare Advantage Prescription Drug Plans
Medicare Advantage Prescription Drug Plans (MAPD) ​​combine prescription drug coverage – Medicare Part D – with Medicare Parts A and B.
Stand-Alone Prescription Drug Plans
Standalone drug plans (PDPs) cover drugs that fall into the Medicare coverage gap but do not provide health insurance or other benefits. These plans work with the original Medicare Parts A and B.
Medicare Supplement (Medigap) Insurance 
Medicare Supplemental Plans, also known as Medigap, cover some of the costs that Original Medicare does not, such as co-payments, coinsurance, and deductibles. A Medicare Advantage plan is not available. Each of the standardized plans covers a different cost. Not all of these plans are available in all states.